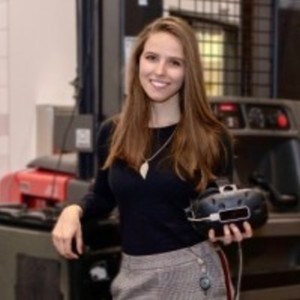 Melissa Schmitz
Special guest
Melissa Schmitz is an Emerging Technologies Engineer and Virtual Reality Tech Lead for the Raymond Corporation. She works as a research engineer for emerging technologies with machine learning, virtual reality, and augmented reality. Melissa is highly skilled in communicating results of complex topics of analysis to generalists and experts alike. She enjoys challenging technical work, optimizing business productivity, and crafting compelling stories with data visualizations and is an advocate for the ethical use of modern technologies. In her spare time, she is Involved in the STEM and developer communities through hackathons, mentorship, and student outreach.
Melissa Schmitz has been a guest on 2 episodes.
Episode | December 17th, 2019 | 42 mins 15 secs

augmented reality, bootcamp, careers in code, data science, hack upstate, hackathons, melissa schmitz, salt city, web development, women in tech

Kelly and Karin sit down again with Melissa Schmitz as she shares more stories and advice about hackathons, her experience in a data science bootcamp, and how she leveraged her hackathon wins into a full-time career in tech.

Episode | December 10th, 2019 | 41 mins 27 secs

bootcamp, careers in code, hack upstate, melissa schmitz, salt city, web development, women in tech

Karin and Kelly chat with Melissa Schmitz about what it's like to win a hackathon, her experience working with virtual reality, and her decision to pivot from natural science to data science.